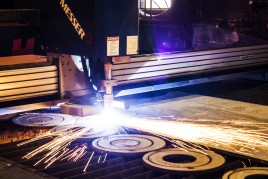 Capabilities
Investing in new technology is imperative to staying ahead of the competition. Brandywine Machine Company makes a perpetual effort in acquiring the latest and most advanced equipment in the industry to ensure we remain at the forefront of stainless providers. By using the latest cutting and machining technology, Bramco is able to offer a wide array of services and capabilities in our large capacity machining centers which include:
78" Diameter Bolt Circle

Plasma Cutting

89" OD Turning

Saw Cutting

300 Ton Flattening Press

Radial Drilling

Waterjet Cutting
CNC Lathes up to 23" Diameter

Machining

67" Diameter Boring Mills

90,000lb Lifting Capacity

All CAD CAM controlled

Tapping

Counterboring
…and much more
Rings, Discs, Custom Shapes, Flanges, Bars, Plate, Sheet and more:
Send us your drawing and we'll do the rest!